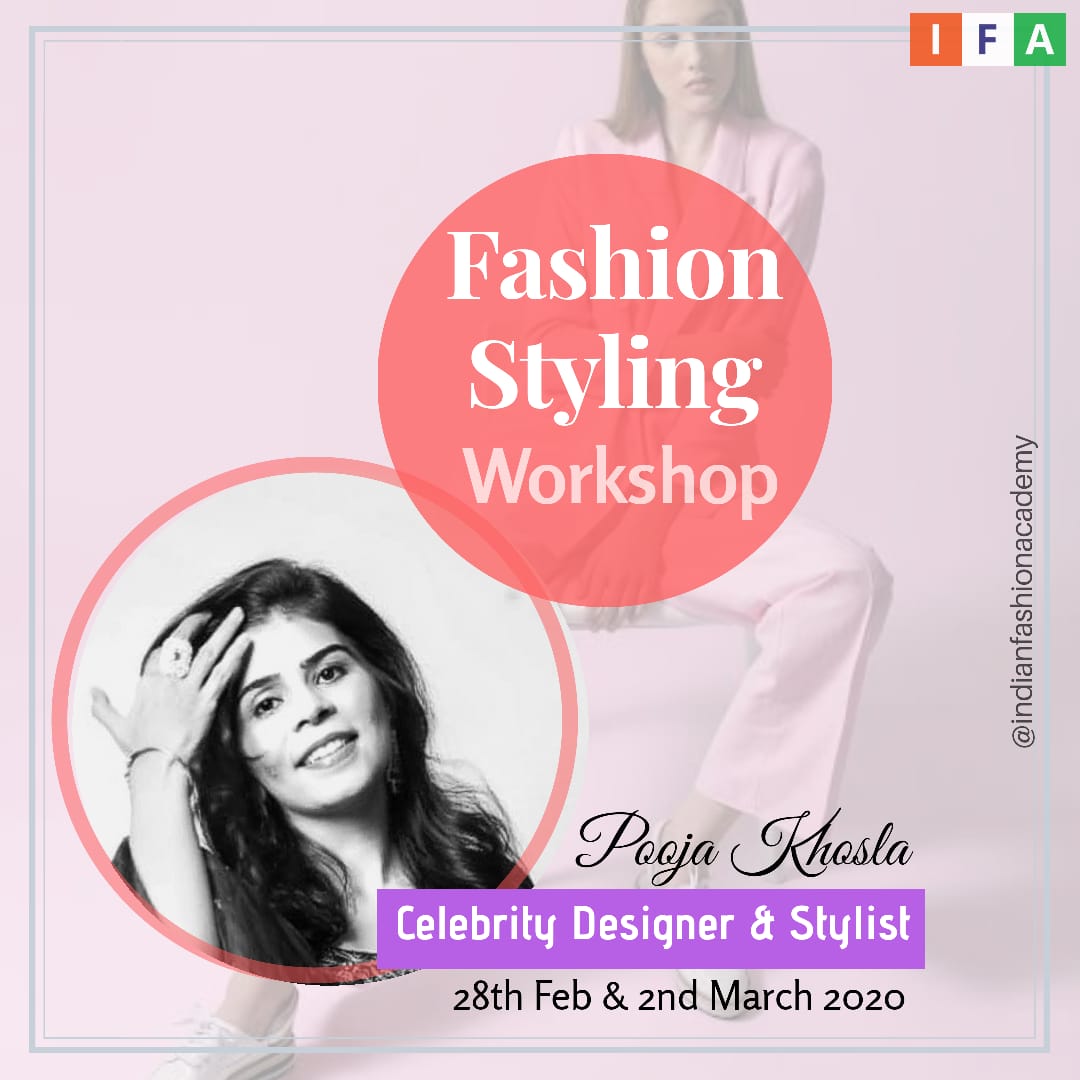 Indian Fashion Academy has organised two days workshop on 'FASHION STYLING' By Ms Pooja Khosla. She is a celebrity designer and well-known Stylist. She has designed for Mahira Sharma (from the big boss ), Madirakshi television actress, Sunny leone for her upcoming movie, Gulfam Khan television actress, Prajakta Mali for her reality show (Marathi actress). She will be discussing every topic in detail in the workshop, with hands-on practice, styling tips will be shared and assignments will be given to the student.
Participation certificate will be provided.
TOPICS TO BE COVERED ARE: How to Develop a signature style, Balance proportions, Cluster wearing, Wear trends in an age-appropriate way, Jewellery should Accenture your features, The importance of right Bra and the right fit, Why Everyone should own a classic white  shirt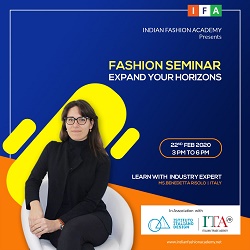 Indian Fashion Academy is proud to host a seminar on 'International Opportunities in Fashion Education' in Association with #italiantradeagency Italian Trade Agency is the Governmental agency of Italy and Istituto Italiano Design, Perugia (Italy). This interactive seminar will define the feature of the Global Fashion Education experience. it is customized to build an understanding of the interrelated segments of the international fashion education and Leadership, cross-cultural understanding, and the challenges of the global marketplace. The seminar will be conducted by Benedetta Risolo. She is the Head of International Office at Istituto Italiano Design. She has been working for IID for several years, supervising the international development of IID.
Build a foundation for a successful lash extensions career.Learn the fundamentals, core techniques, and business building strategies necessary to become a successful Lash Stylist. Get trained and certified by the most trusted american brand ARDELL. Join us for a full fledged 1 day course on Permanent Eyelash Extension. Do not miss this opportunity.
We have conducted a Calligraphy workshop with legendary calligrapher Shri. Achyut Palav. Our students learned to understand the beauty of words and how to incorporate them into their designing. It was a fulfilling experience for students
We have Conducted a Ganapati Idol making Workshop on the occassion of Ganesh Chaturthi, Exclusively for our students. The workshop was conducted in association with Ridhhi Arts Studio. Students have enjoyed this workshop and created beautiful Ganapati Idols.
Calling All beauticians and beauty students to attend a exclusive 1 day Look & Learn Make Up workshop with Internationally trained make up artist Vidya Khot make up industry is booming. The demand for make up professionals has therefore seen a significant growth. A must attend workshop for all budding make up artist. Register Now. Its free
Calling all fashion designers and fashion students. Ever wonder what it takes to make a fashion designer in this demanding industry. Fashion Designer & Fashion Guru Shubhangi Z will teach you the art of 3D draping. If you are serious about your career in fashion designing, Register today for a exclusive 1 day Workshop. its free,register now! Call 8452045199 for registration. Limited seats. First cum first served basis. Participation certificate will be awarded.
INDIA DESIGN WEEK is proud to announce its association with Indian Fashion Academy as education partner. IFA is one of the premier institute in Fashion Design and Beauty Cosmetology since 18 years, ranked 5th among top fashion colleges in Maharashtra, produced more than 3000 successful designers, entrepreneurs and fashion professionals in the industry.
It was an amazing experience to see our students transforming from students to designers. it was dream nurturing from years. Everything was glamorous, shining and eye catching it felt like it was dream. The photographic and interview moment was the second best moment after the ramp show. From models doing the last touch up of make-up and hair to the last rehearsal several hours before the show to setting up the stage and the venue to both designers and models alike making sure their garments and clothes are in tip top condition for the runway, alongside other tedious tasks done the day of the show. Our studnets were appreciated by everone as everone was saying the collection looks like from professional designers not from students. We are happy it all went so well and also for the fact that it was a really good time. This was the moment which will be dear to our heart forever.
Celebrating Fashion. Great and Unique concept by well-known fashion choreographer Vishal Sawant. We all are super exited and glad to be part of this. Our Students Shilpa Chavan, Manasi Salunkhe & Vaishnavi Chavan got the opportunity to design for this calendar.